TriTech gets Creative with Cans
TriTech employees have a canned food sculpture contest to benefit the community.
Allen, TX—(November 22, 2011)— TriTech donated over 1,000 cans of food to the Allen Food Pantry after holding their first annual canned food sculpture contest. Each department at TriTech competed against each other to make the most generous and creative sculpture. The sculptures were judged based on the quantity of cans, creativity, and the minimal use of building materials other than the food items.
First prize went to Reunion Tower by the Product Assurance Group.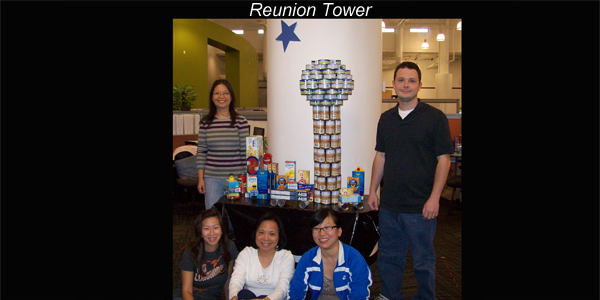 The runner-up was The Lighthouse by the Sales, Marketing, and Admin Group.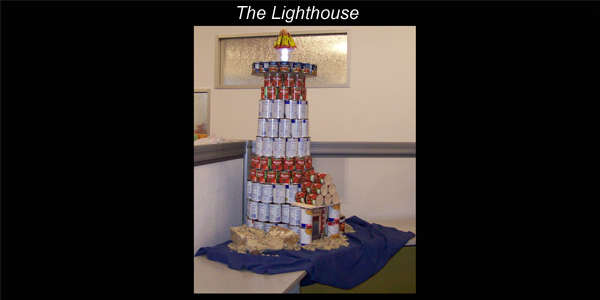 The other entries included Ms. Pac-Man, Christmas Tree, the Alamo, and a Stack of Cans.
The Allen Food Pantry is a strict non-profit organization that is 100% volunteer based. They serve those in need of food, including those out of work, grandparents caring for grandchildren, soldiers returning from Iraq unable to find a job, and others who find themselves in financial difficulty. All of the TriTech donations benefited the Allen Food Pantry.
###

About TriTech Software
TriTech's software has been designed to streamline and simply the calculation and filing process specifically for the insurance industry. The Premium Pro suite of software includes state and municipal premium tax, premium allocation, miscellaneous premium tax forms and a tax calendar. In addition to Premium Pro, TriTech Software Development Corp. has expanded to include two subsidiaries: TriTech Services and Paperless Solutions.

About TriTech Services
TriTech Services offers companies a total solution that isn't simply tax preparation. Their premium tax services offer a unique combination of consulting, preparation and software expertise related to premium taxes.
TriTech Services can offer assistance on premium tax related matters and state return reviews, planning issues, retaliatory tax concerns, guidance and assistance with desk and field audits,. Plus, any time a company faces a new premium tax challenges, their consulting staff is ready to assist.

Visit www.tritechservices.com to further investigate the benefits of partnering with their team and to see what services they can offer your company. For more information call (800)380-6407, or email sales@tritechservices.com