TriTech Runs for Kids
TriTech employees participated in the 2011 MetroPCS Dallas White Rock Marathon.
Dallas, TX—(December 04, 2011)—TriTech employees finished a 26.2 mile relay, benefiting the Texas Scottish Rite Hospital for Children. To complete the race successfully, each runner had to cover between 4.5 and 6.5 miles within the 6.5 hour time limit.
There were over 25,000 participants in the marathon. Over 844 relay teams entered and TriTech had two teams, one finishing 223rd with a time of 4 hours and 13 minutes.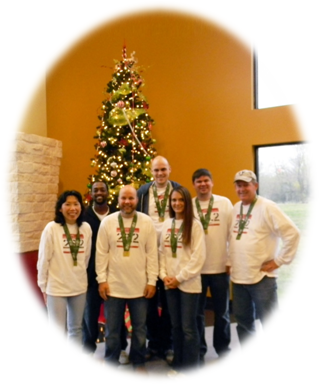 Participants (left to right): Cathy Han, DeMarco Latham, Robby McCollom, Zach Gordon, Jessica Jennings, Stephen Crim, Rob Brezovsky
The Texas Scottish Rite Hospital for Children, one of the nation's leading pediatric centers for the treatment of orthopedic conditions and learning disorders, is the primary beneficiary of the MetroPCS Dallas White Rock Marathon. In 2011, the Dallas White Rock Marathon pledged to donate $1 million to the hospital, with a goal of $200,000 in online fundraising.
###

About TriTech Software
TriTech's software has been designed to streamline and simplify the calculation and filing process specifically for the insurance industry. The Premium Pro suite of software includes state and municipal premium tax, premium allocation, miscellaneous premium tax forms and a tax calendar. In addition to Premium Pro, TriTech Software Development Corp. has expanded to include the subsidiary: TriTech Services. For more information call (800)380-6407, or email sales@tritechservices.com.
About TriTech Services
TriTech Services offers companies a total solution that isn't simply tax preparation. Their premium tax services offer a unique combination of consulting, preparation and software expertise related to premium taxes.
TriTech Services can offer assistance on premium tax related matters and state return reviews, planning issues, retaliatory tax concerns, guidance and assistance with desk and field audits. Plus, any time a company faces a new premium tax challenge, their consulting staff is ready to assist.

Visit www.tritechservices.com to further investigate the benefits of partnering with TriTech and to see what services they can offer your company. For more information call (800)380-6407, or email sales@tritechservices.com.