The Process
TriTech has been doing premium taxes for over a quarter of a century and we've developed a process for getting things done both accurately and on time.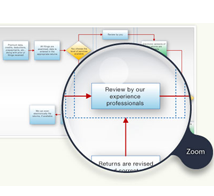 We will need:
Your NAIC diskette file
schedule T
guaranty fund credits
other credit/fees that need to be included for each state
overpayments
available/prepayments made to date
income tax data
anything else that you normally include in your returns
prior year returns to understand your needs better
Print, Sign, and Mail!
You can then print and mail or
Let us print and mail the returns to the state and
Sign and notarize.
Sit back and watch.
TriTech offers a method to track where the returns are in the process and what still needs to be done.
TriTech will post a prepared return for your review or the final return (if we review).
TriTech can even e-file and prepare payments!
Experienced Professionals in Insurance Tax
TriTech Services combines cost savings with the efficiencies of technology to deliver the most innovative and complete tax preparation solution. Our experience and expertise in the industry means you can be confident in the quality of our work. We are committed to understanding and exceeding your expectations.
Benefits
Let TriTech provide the skilled employees trained on premium tax return preparation.
Able to treat TriTech as an extension of your own tax department.
Eliminate busy season staffing headaches.

Eliminate the need for temporary employees to hire.
No more stressing your tax department by borrowing employees and making them work through multiple busy seasons.
No training time needed for new staff.

Free up staff to work on planning, tax savings, and process improvements.
No tax software packages to learn or dedicated staff person to install them.
Gain control of your year-end work.
TriTech can customize the preparation and review of your returns to fit your needs.
You receive a dedicated client support manager to work with you throughout the year. One point of contact for all your needs.
Disaster Recovery in place!
Paperless: No more paper file cabinets needed, everything is electronic.
Electronic copies of all your returns and support documents sorted by year, company, and state.
Secure 24/7 website access from any computer.
Easy to locate prior year returns and documents.
Secure Firewall and encryption to protect your data.
We address the staffing issues insurance companies face each year by providing technical (tax expertise), clerical (document management), and data entry personnel.
Data never leaves the USA.
Disaster recovery will be much easier as all information is digitized.
Take the initial steps to moving to a paperless office.
Process
TriTech Services combines the cost saving of co-sourcing with the efficiencies of technology to deliver the most innovative and complete tax preparation solution.
Our state-of-the-art, intuitive software-including real-time tracking tools-makes managing the process simple.
Our professional staff will place them all in a web-based tracking tool that you can access at any time from virtually anywhere in the world. The result is tax preparation that's faster, more organized and far less painful.
Other Services
At the end of each year we do a quality review looking for possible tax savings.
We'll handle amended filings as necessary.
We'll help with desk audits, also.